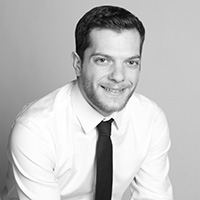 Simone
Having completed my studies in an international setting, I graduated from ESSEC BBA programme and Paris Dauphine University. As part of my studies, I took part in two Chinese exchanges, which gave me an insight into a reality which is completely removed from our own and a society which is undergoing wholesale growth.
My experience as an intern and an apprentice enabled me to gain an understanding of the sector I wished to join. I was drawn to the possibility of varied challenges: the assignments, clients and issues which I would encounter.
Now I handle both property and IT issues within the same project, I find this highly rewarding and it illustrates the diverse nature of my role. Add to that, the in-house experience I have enjoyed at Enza, particularly regarding recruitment, but also my involvement with our partner Les Grappes (a new start-up) which is truly taking off.