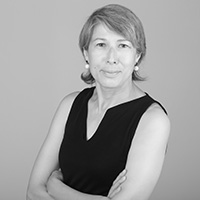 Claire
After graduating from ESCP Business School my entire career has so far been spent in consultancy and always as part of organisations with a more human dimension. What drew me to Enza was a desire to participate in major projects with an international dimension, all the while remaining in an environment which suited me. I am currently working with an industrial client and overseeing their change management programme as part of an SAP roll-out.
Enza is a rare kind of organisation, where someone with my kind of experience can throw themselves into stimulating and demanding assignments, while working on a part-time basis. This balance between professional and personal fulfilment is of huge value to me.
In a general sense, at Enza, a large onus is placed on the development of consultants. Be they junior or senior members of staff, we make a considerable effort to enable them to "grow" in accordance with their goals and also enable them to gain visibility. To do so, the means of offering support and the coach's role provide a valuable perspective thereby optimising guidance and training.
Email: claire.dang@enza-conseil.fr