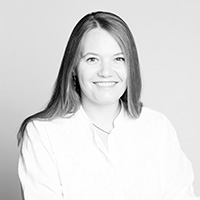 Aurélie
As a Centrale-Supélec-trained engineer, I wished to add a business string to my bow by undertaking the Collège des Ingénieurs MBA. After that I naturally turned my attention to consultancy, given the joint-appeal to my analytical mind and possibility of seeking added-value for my clients.
After 16 years with Accenture, where I learnt their methods and approaches and worked with a major player in the world of digital transformation, meeting an incredible array of fascinating individuals convinced me to join the Enza adventure. Here I have found an organisation with values and practices which place people at the heart of their approach and considerations.
My area of involvement: the Public Sector and topics related to Teaching, Higher Education and more broadly Training.
On a day-to-day basis, I enjoy building long-term relationships with my clients and the feeling that what we do is making a difference for them. I also enjoy welcoming and supporting less experienced consultants to whom I hope to pass on our values.